Anouchka Oler
"To Ettore With Love", 2014, tinted galalith, nail polish, thread and inkjet print, 68 X 47 cm, edition of 5, each finger from the necklace is handmade, therefore shape and colour can slightly vary. 250 Euro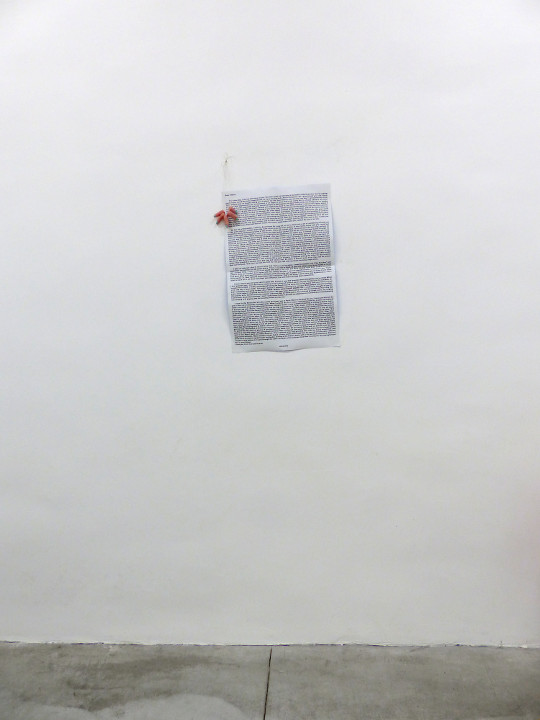 Dear Ettore,
The other day, I saw an interview of you. You were quite old already. A journalist underlined this fact by asking you how you would like to be remembered, as if you already had a foot in the grave. 'As a good friend' you said. Since that I simply have no trouble telling you all about my life. Dear Ettorre, you are the one that I spontaneously think of when I feel oppressed by an environment or an object. I know that's not really fair to always address my inner com¬plaints to you, especially that you wanted people to feel happier and less lonely with your things and so maybe never to physically suffocate them. Though you might have done it, you little monkey! I started this letter about 3 months ago now. At this time I was thinking of you quite a lot, which unconsciously made me start my first ceramic sculpture. None of them worked out though; the cone object cracked all the way down, and at the same time my letter ended up in a dark corner of my computer, with some quotations from your wife about your life, your work and both of them mixed together. I didn't want to talk with you (as if it was even possible), but possibly to write to you and about you only. But I guess what was disturbing was that you surely know what you've done and how great it was. You must have known, and I am not even sure you cared. After the 'cone accident' I made the form all over again in papier maché, and then another one in fabric because I couldn't wait for the first one to dry. I wish you could see them now; they look like evil twins! You know I made them with you, neither for you or as you.
On the 7th of December, I went to Amsterdam for a day-off, so as to fairly mix a bit of wandering around and to see some shows. I walked down the main street from the train station. It was really windy and you could feel the winter slowly taking possession of the streets. I felt a bit hopeful when I dressed up in the morning, and put no tights under-neath my trousers. I was wearing my grey leather jacket that let the wind eat your bones through its motif of triangles holes. When my lower jaw started to hit repetitively the upper one, I entered a shop to get some warmth. Not the first one encountered; I walked a few more meters to one Amsterdam souvenir shop. I was already dreaming of Christmas holidays and of what kind of object could I offer my family for them to think of me here without me being there. The shop was divided in two sections: one dedicated to the Amsterdam football team Ajax and another which seemed to fulfil the promise held by the shop name: Amsterdam souvenir. I wandered around every corner. Little wooden shoe key ring, big wooden shoes, white ceramics with blue drawings of windmills, weed flavoured chocolate… Nothing was very particular to the city; everything was really charming. I turned over an alley of caps, bags and wallet pressed "Amster¬dam" too many times. I was instantly reminded of the special feature of the city's tourism, a ceramic penis bong was sitting on top of a glass shelf, right in the middle of numerous other weed machines. The whole thing was painted in a creamy version of a strawberry pink, its veins were swollen with a slight exaggeration that cancelled the softness of its colour. There was something really violent about it. It was too big, too hard and too obnoxious. I thought of a potential buyer or someone receiving it as a present. Who would like to put this in his own mouth? I was acting with so much prudery, I imagined asking the seller for the ceramic penis, then grabbed a wooden shoe key ring and went to him. 99 cents. It doesn't exist here; they sell for prices that can't be paid. 'One euro' he said. He took my coin and I left with my heart-warming single shoe.
I later on entered a bar. It was so busy that I felt sorry to be alone. I went to another one "The Snooker" and used their un-coolness to get some peace. There, I started to think of you and either you'd have hated or loved this ceramic thing. I really wished you would have been on my side, but there already have been several occasion where I think you wouldn't have agree with me. I always thought I was too unprofessional or messy for you. That's true that I often don't see the point of doing my stuff materially well. I guess I just want people to know I have done them and for so, their defaults make them mine indubitably. That's the thing, I don't have your humbleness, I don't want to back up to let them have their own influence. I am still there through their clumsiness.
I heard about you and your oeuvre quite late, but then I was like feverish about everything you've done! When I first googled you, I saw this famous picture of you in front of several pieces of your furniture at the LACMA's retrospec¬tive in 2006. I vividly remembered having the French journal Libération in my hands with your face on front cover the day of your death. This exact picture. I remember opening it to see your Bibliothèque Claustra Carlton. And I remember not going further. ALL THESE YEARS I COULD HAVE KNOW YOU. I could have thought of you for every weird object I acquired during those years. My piggy lamp, the creamy tool with its handle and four long flat thin plastic arms that the function remains unknown after all these years, the coloured grooved cones, my singing tooth brush, those kind of things. I don't really know if either I provoke my experiences by building an overwhelming surrounding or if anyway the surrounding would provoke me.
I went to the Musée des arts Décoratifs last time I was in Paris. More or less just for you. I knew you'd be at the end of the chronologically arranged path. When I entered the first room, I was surrounded by dozens of medieval chairs. Sculpted pregnant ladies adorned their triangular backs. I was suddenly dreaming of sitting on those chairs, it became my only desire. I was burning and my legs appeared to be really weak. I went to the next room where three big chests from the beginning of the Italian renaissance were standing against the walls. A brown one wasn't in particu¬larly good shape, bruised by burns marks in many places, often circular like a stamp from a cup. All these years and all this marks by too many dead people unsettled me a bit, enough for me to seat on the guard chair. "Are you okay?" he asked me when he came back from this long corridor where he seemed to usually pace. "Yes. Yourself?" I answered. He quickly responded, "no". I then had to move smoothly from the chair when I saw him grabbing its back with his thin hand. He then turned his long body to seat his butt in the same axe of the bottom's chair and went slowly down. Once sat, he started speaking with a lower voice. He told me he has just been moved from the floor where he was keeping an eye on your things to this museum's area. He added he has just been put here; he didn't feel like staying next to these 3 massive chests. I was a bit dubious if I heard him well or if I this chest really got me nuts. He pointed at the brown one and said something like "I used to keep Sottsass's things and felt light. To spend the day with his pieces of furniture always made me a bit too much dazed and too distant from the daily grind in a way that when I was going back home by tube, a coloured vase was replacing every person's head seated next to me. Now I don't see them any¬more." The medieval area only provides him with too heavy ornaments and aggressive attitudes. Water-swollen woods, faded colours, saints with longs hair, he was out of it he said. I left him alone as he started to speak louder and louder, looking at the brown chests with a bit too much insistence. Ettorre I couldn't really believe it. I went through the other centuries a bit confused. And then I found you: You were glorious! You or your things.
I love you, from now and forever.
Anouchka
Anouchka Oler (b.1988, France) is manipulative. She employs an array of sculptures that constitutes her material production as actors in her practice. With them she explores the logic of affects and our emotional relations to objects through an investigation of the permeability between who produces and what is produced.
In "To Ettorre With Love" she inquires her love for Ettorre Sottsass's work and figure as well as his influence on her thoughts via a love letter addressed to the late designer. The artist casted her right hand in order to make a necklace intended for the reader of the text. Honouring Sottsass by a goofy gesture, she proposes an authoritative object, a bit too present, playing around the stereotype of the hand that produces and manipulates.
Anouchka Oler gained her MFA from the Piet Zwart Institute in Rotterdam and is currently enrolled in a research and practice based programme in Lyon, France. Recents exhibitions include Black Coffee, Paris (2014); AiR-Jakobstad, Pietarsaari (solo with Marion Jaulin, 2014) ; OG2, Cologne (Solo, 2013) ; Tent, Rotterdam (2012); De Appel, Amsterdam (2012)
Delivery within 14 days. Price is excluding VAT and shipping.
We are looking forward to your order: info@artblogcologne.com